We offer two regular tours, a half day tour that will take you to interesting sites in the area, and a full day tour in Khao Yai National Park. We can also organize private tours.
When you take at least the full day tour, transport from and to the train or bus station in Pak Chong is free!
Half Day Tour (starts 15:00):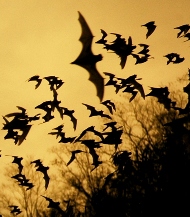 Starting in the afternoon, we will take you to see the stalagmites and stalactites in an underground cave, where you will also learn about Buddhist practices and a variety of cave dwelling creatures.
We'll go swimming in a refreshing natural spring, and sunset we'll watch millions of bats leave their cave in swarms for their nighttime hunt.
Full Day Tour (starts 8:00):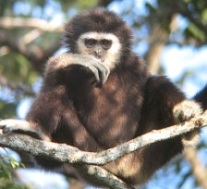 During the full day tour, we focus on showing you as much of the Khao Yai wildlife as we can, including gibbons, horn bills, macaques, wild elephants, reptiles, insects and many bird species. There are lots of amazing animals in the park, and we know where to look for them!
Starting in the morning we'll pay a brief visit to the park's visitor center after which we'll go trekking for 2-3 hours to enjoy the beauty and wonders of the forest. After a healthy lunch in the outdoors we'll visit the impressive Hew Suwat waterfall, before starting the last part of the tour, when we'll drive around to look for wild elephants. We can't guarantee that we'll see them but we'll do our best.